FLOW
This exhibition aims to raise our awareness of water flows, from the mountains to the ocean, feeding our islands. The exhibitors contributing to the awareness come from various backgrounds and disciplines.
Adam Woltag is a partner at WRNS Studio where he leads design efforts out of the firm's Honolulu and San Francisco offices. His work, which includes the first certified Net Zero Library in the United States and numerous Living Building Challenge projects, has been recognized with numerous publications and awards, including two prestigious AIA Committee on the Environment (COTE) awards. Committed to advancing the profession of architecture, Adam teaches at various universities, participates in design review boards, and shares his expertise with the broader public at conferences and community events. With over 200 people, WRNS Studio works with today's most transformative organizations to deliver site-specific, sustainable design at any scale across project types: education, workplace, residential, large-scale multi-use, transportation, civic and cultural. The firm consistently earns a top ten spot in Architect magazine's annual ranking of firms across sustainability, design, and business, including the #1 in 2018 and 2013. In addition to its Honolulu and San Francisco offices, WRNS Studio serves a national clientele out of Seattle and New York.
Manipulation - Adam Woltag

To care for and engage the stream - a valuable resource that in turn shapes the experience of place. Ever present and flowing - it carves a path through our communities and our memories.
Water Through My Valley

Manoa Stream cut a path through our community that was magical and untamed. It did not obey the formality of the streets, curbs, or property lines. We'd play in the small feeder streams that fell from the east side of the valley and flowed to the center of Manoa Valley. It was our secret, a place just for the kids—wild, but not too wild to explore and relish. The unknown of our known environs. In this unprotected and raw place of imagination, discovery, and a little healthy danger, there were no rules.

The streams flowed cool and clear. Even during the dry times of the year when the Ko'olau were free from clouds, the water flowed gently. During heavy rains, the streams collected storm waters that washed across our homes, driveways, and streets, filling the narrow banks with mocha colored water and the forgotten debris of our lives, rubbish mostly, but to us kids they were lost treasures. We'd find crayfish, swordfish, frogs, tadpoles, and dragonflies.

The threshold was thin and immediate between our neighborhood and the streambed. We felt the quick change in atmosphere. Listened to the sound of water moving over rocks as it spilled downward. The quality of light filtering through the dense green of the foliage along the edges of the stream and reflecting off of the surface of the moving water. The cool air against our skin. The texture of rock, mud, and moss along the soles of our bare feet.

Manoa Valley was always connected to water, the everyday rains gently marking most afternoons with rainbows. The falls at the back of the Valley. Manoa stream ran past my elementary school, flowing through town toward the University along the eastern edge of the Valley. The small falls along the way. The pools.

The shape and width of the stream bed changed depending on where you were in the Valley. Severe concrete walls released into more natural edges defined in lava rock, roots, and dirt. We'd walk and at times climb our way along the sides of the stream, crossing over black stepping stones and through shallow pools.

Once we made it all the way past Kanewai down to the H-1 overpass where Manoa stream meets Palolo stream. Here the waters were deep, dark, still, and filled with silt. I swam across this pool as a child, realizing that these very waters connected to the coast. They flowed from the tops of the valley, through the neighborhoods, across the valley floor and along the edges of our shopping centers and campus to mix with the same waters I surfed in, along the reefs that shaped the waves.

Hawaii was born from its waters. Clouds meet land and our valleys take shape.
Gaye Chan is a conceptual artist who is recognized equally for her solo and collaborative activities that take place on the web, in publications, streets as well as galleries. Past exhibition venues include Art in General (New York City), Articule (Montreal), Artspeak (Vancouver), Asia Society (New York City), Gallery 4A (Sydney), Honolulu Museum of Art (Honolulu), SF Camerawork (San Francisco), Southern Exposure (San Francisco), and YYZ Artist Outlet (Toronto). Her work has been supported by Art Matters and the Creative Capital Foundation.

Chan's collaborative projects include being a part of Eating in Public, an anti-capitalism project nudging a little space outside of the commodity system. Following the path of pirates and nomads, hunters and gathers, diggers and levelers, they gather at people's homes, plant free food gardens on private and public land, set up free stores, all without permission.

Gaye Chan was born in Hong Kong and immigrated to the United States in 1969. She received her MFA from San Francisco Art Institute and is a professor of the Department of Art and Art History at the University of Hawai'i at Manoa.
Evaporation - Gaye Chan

To make salt and fresh water from ocean water with solar energy.
Free Salt

Free Salt is a small exercise in relearning a basic survival skill and in reclaiming the Commons. Since its theft, natural resources have been incrementally privatized or usurped by states, thus turning commoners into wage laborers for capitalism.

Salt is the main source of sodium in the human diet, essential for nerve and muscle function, and the regulation of fluids. Salt is used to season and preserve food. It can be collected from natural shoreline pools, produced through shallow artificial solar evaporation ponds, or by boiling ocean water.

Make Salt by Boiling:

+ Gather ocean water from the cleanest available source.

+ Let water sit for an hour for particles to settle.

+ Pour water into pot through a fine cloth or sieve.

+ Bring water to a boil and maintain at medium heat. Start with a full pot and add more water as it evaporates.

+ As salt starts to form stir to avoid burning.

+ Boil until 90% of the water has evaporated, or at the consistency of wet sand.

+ Remove wet salt from pot and place into a shallow baking pan. Bake in low heat until dry.

In 1954, after service in the Marine Corps, Richard returned to San Francisco to work for Coldwell Banker & Co. in the loans and appraisals department. He remained there for 4 years doing residential appraisals, soliciting loan business, and providing property management to the Marin County area. In 1958, Richard moved to Boston to attend graduate school at M.I.T.. At M.I.T., he studied housing and design, graduating with a Master's degree in City Planning in 1961. After graduating, Richard moved back to San Francisco to work for a large land development company as a coordinator between architects, designers, engineers, and the county.

In 1964, Richard moved to Hawaii to serve on the Warnecke Planning Group, the tenperson team of architects and planners who created Honolulu's Civic Center Master Plan.As a part of this team, he performed area studies of the region from Honolulu Harbor to Punchbowl, preparing the Civic Center physical plan around historic buildings, and authoring a bill for implementation. In 1967, he helped to execute the 63-acre Victoria Ward Ltd. Master Plan, which considered the central urban area from Chinatown to Waikiki, and remained on the staff of Victoria Ward Limited to assist in community relations until 1970.

Throughout the 1970's and 1980's, Richard transitioned into faster-paced projects in field construction estimation. This included tenure as Manager of Planning for Wailea on Maui, membership on the distinguished Design Committee with Vladimir Ossipoff, and some memorable negotiations with "take it or leave it" investor Harry Weinberg. In 1985, Richard joined Earl Thacker, Ltd as a real estate broker. While there, he focused on mostly residential and apartment real estate, also assisting the firm with the planning of future subdivisions. He remained with Earl Thacker Ltd for 25 years before founding Lowe And Associates LLC in 2010.
Quest(ion) - Richard Lowe

To question whether we have enough water - the opposite of too much - to be aware of and to warrant further serious studies.
Questions About the Supply of Water

What are the sources of domestic water supply in Honolulu?

One is the natural catchment of water within the Koolau mountains and its natural reservoirs. Another is the private catchment of rain water caught house by house in tanks not served by our public water system, the Board of Water supply.

Another is the ocean where the supply is abundant and where desalination is feasible.

Are these sources adequate to supply power and water to our existing and future populations?

What is the likelihood of these sources arriving at a shortage of water supply (as in the case in many parts of the world)?

Can we predict with confidence that our current sources of water will persist in its current abundance?

Can we manage our current sources of water to meet our future needs?

Will there be of sufficient rain volume and location to increase the flow from the sky?

Will the future flow of rain water continue as pure fresh water on our island?

Do we have sufficient power to be able to invent and run - for one - desalination methods?

Can we visualize realistically that we can afford economically the power to run foreseeably other ways to supply sufficient water for all our needs?

Do we have a planning and permitting system that can respond to foreseeable changes?

Do we have administrative and political leadership to keep up with invention and decision-making?

Yes? No?
Kaimalu Stanich was born and raised in Nā Wai 'Ehā on the island of
Maui. He is currently part of the first cohort to pass through the Masters of Landscape Architecture at the University of Hawaii at Manoa.

His works speaks to the state of freshwater management on the islands, combining the intricacies of Hawaiian culture and community based design to find solutions in a modern context.
Revolution - Jonathan Stanich

To propose an approach in distributing essential seeds within areas of potential inundation to foster future food security and social change.
PONO

What will it take for us to truly value the rivers and streams of this land?

At best, the current view of the river, is a recreational amenity, and at worst, a nuisance.


But the catalyst is coming.


We will use the destruction to challenge the ways that we perceive freshwater in Honolulu.

We will take advantage of a weakened social system in order to usher in a new ethic, focused on the river.


We will prepare for the change to come.

We will win over the hearts and minds of the people when the state fails them.

We will rebuild smarter and stronger than before.


We will restore food to the land.

We will restore water to the rivers.

We will restore PONO to Nu'uanu.


Join us in the revolution.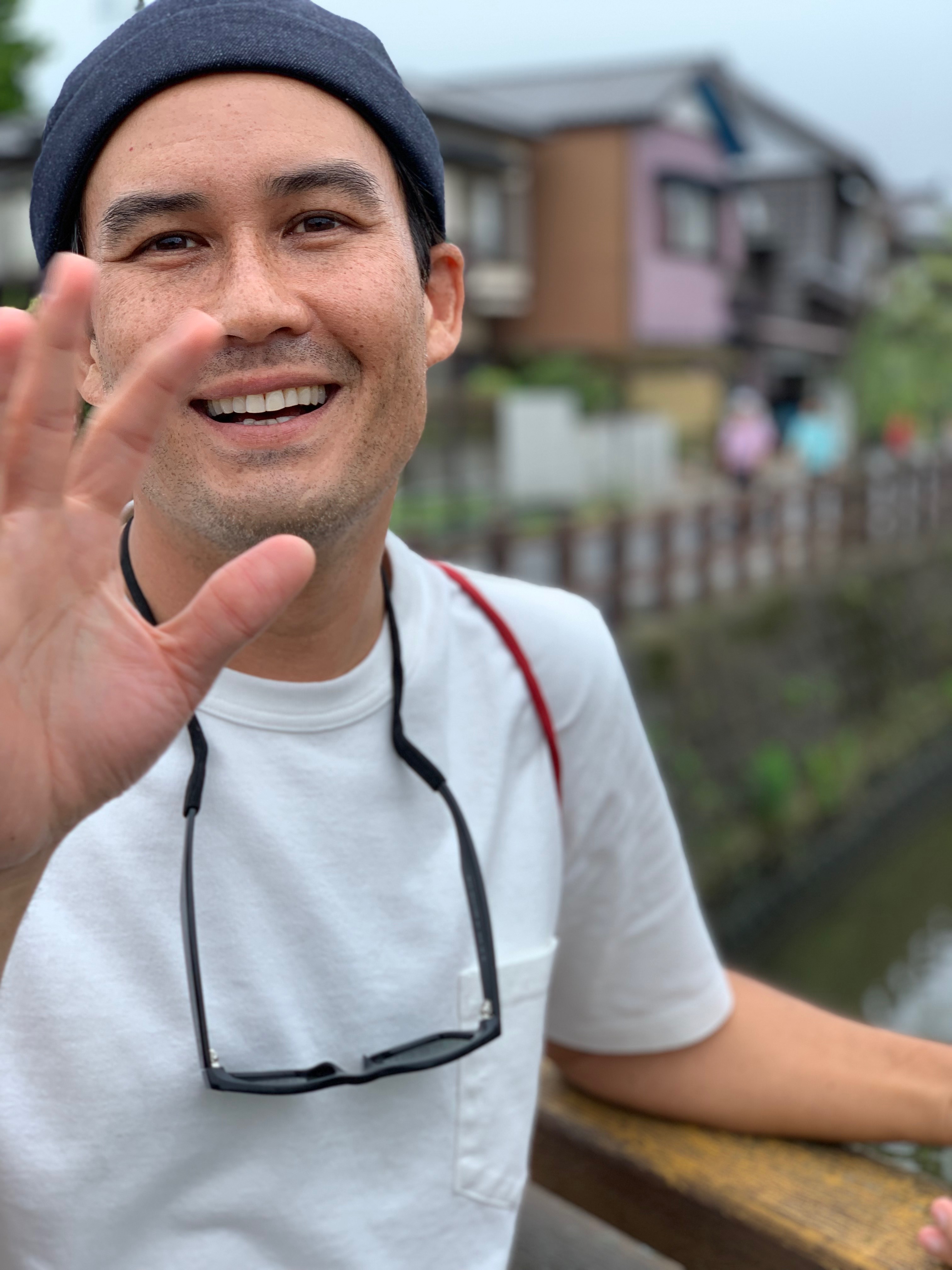 Beau Bassett is a lawyer and film producer. Born and raised in Kahalu`u,
Ko`olaupoko, O`ahu, he has always collected and kept wild fish as pets.
Observation - Beau Bassett

To observe the latent brackish water environment in the urban context and to engage with its inhabitants.A Small Ditch. Neil Blaisdell Center Parking Lot

The collecting and keeping of wild fish as pets is important. In the collector grows an appreciation and maybe even a love of water resources, processes, and environments. You may be aware of the general idea that rain falls and then flows and bubbles down to the sea. Some places may even honor and celebrate this phenomenon, showcasing the unique qualities of water resources to attract and inspire. This indeed is not true of our Honolulu. Here the bubbling and flow of Honolulu's fresh and brackish water resources occur without our detection, understanding or care. Exhibited in this video is one example. A small un-noticed ditch in Honolulu's urban core abuts the Neil Blaisdell Center parking lot and is sometimes filled with brackish water. When observed it is a reminder that the Neil Blaisdell Center was built on a brackish-water pond where people not so long ago collected and kept fish.
Watch video here ︎︎︎
Lauren Roth Venu has been developing strategic, innovative solutions to build water resiliency for over 20 years. She is the President of Roth Ecological Design Intl. LLC (REDI) and Founder and CEO of 3Rwater Inc. Her academic background in both the water sciences and policy merged with her interest in sustainable development. This led her to
serve as a pupil of Dr. John Todd, an internationally renowned ecological engineer and inventor of the Living Machine and other ecological technologies that support both people and the planet. This background laid the foundation of her current practice as a water
resiliency and integrated water resource planner and green infrastructure designer. Her passion in building resilient communities and nature-based solutions also led her to invent the Follow the Drop mobile application, which serves as an educational, data-collection
and analysis decision tool to identify and quantify opportunities to capture stormwater with green infrastructure. The app also serves as a data platform for government agencies and utilities to track stormwater runoff and green infrastructure projects. She is a frequent lecturer, published author and has served on numerous professional committees, board of directors, task forces and advisory committees developing and supporting sustainable water policies and practices within Hawai'i and abroad. Accolades include a Regional Environment Protection Agency (EPA) awarded design project (2005) and she was named a Top Emerging Designers by Pacific Edge Magazine (2014) as well as top Forty Under Forty Business Leaders by Pacific Business News (2014).
Connection - Lauren Roth Venu

To capture, store, filter, reuse and/or recharge groundwater supplies to minimize the development's water footprint.
Greening Iwilei and Kapalama

Water is connected through all living and nonliving things at all scales from the molecular to the biosphere. There is no "away" with water; it is in a continuous cycle. Nor is water finite; it is just disappearing from where we are used to finding it. Our collective development choices and activities have dramatically changed the climate and locations of natural waterways. As an integrated water planner and ecological designer, I strive towards design that mimics natural water management processes and regenerates ecological services to restore balance and build community resiliency. I am hopeful that by regenerating natural systems to support our current and future water management needs we can adapt, and possibly reverse, the impacts of our changing climate and build communities that heal both the land and ourselves.